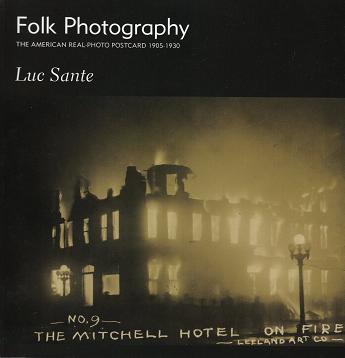 Luc Sante, Folk Photography: The American Real-Photo Postcard, 1905-1930 (Verse Chorus Verse/Yeti).
Read my essay "Ghostcards," on Luc Sante's new book, Folk Photography, on the Las Vegas Weekly website, HERE.
Nut graf:
To Sante, these [early 20th century] postcards constitute a "ghost telegraph," as he told a radio interviewer. In Folk Photography, he writes, "The real-photo card was typically a product of the small town, particularly the small town isolated on the plains, whose newspaper did not have the capacity to reproduce half-tones, and whose lonely citizens felt an urgent need to communicate with absent friends, distant in those days even if they lived only three stops down the railroad line." Like the blues, field hollers, chain-gang songs and other folkways of Old Weird America, real-photo postcards served as a social network, a kind of Basement Tapes of the backwoods unconscious, reporting local news, memorializing personal tragedies, scrapbooking sentimental moments.

[R]eal-photo cards…captured throwaway personal moments: two nattily bowtied little boys, a girl, and a pup straight from the Little Rascals casting call, seated on a lawn, framed by the shoes of the guy taking their portrait from a prostrate position. Or moments fixed in agony: an iron-faced woman, her jaw set in resignation, her baby—dead, by all appearances—limp on her lap. (Postmortem portraits were part of the American way of death well into the 20th century.)

Some of the cards in Folk Photography freeze-frame tableaux whose backstories have been misplaced, enigmatic scenes in search of a plot, like the—abandoned? ransacked?—office, its walls stripped bare, detritus heaped on the floor. Or the skin-pricklingly creepy photo of two pathetic grotesques, tarred and feathered and captured for posterity by the camera's implacable gaze. In the background, a blurry figure hides his face with his hands.


Luc Sante, Folk Photography: The American Real-Photo Postcard, 1905-1930 (Verse Chorus Verse/Yeti).
More, HERE.