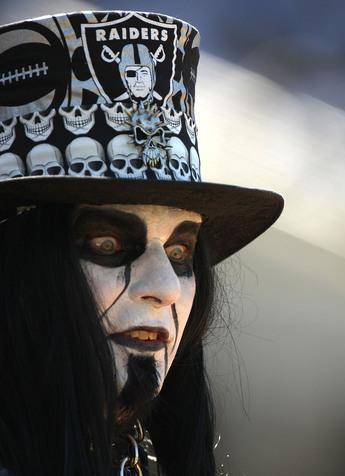 ((UPDATE: Okay, so most readers took one look at that 5,000-word behemoth of a post (on True/Slant, blogged below) and fled in puckered terror. A Teachable Moment. Happily, in these post-Gutenbergian times, the writer is able to wade back in with a scythe and clear a wider path to the finish line. Which I did, weed-whacking this thing from 5k down to, like, 3k-something. Not exactly a Tweet, I'll grant you, but more manageable by far. Second chance?))
Just rolled out the sequel to my earlier TRUE/SLANT post on the gender politics of the Super Bowl and the fine line between homosociality and homosexuality in jock culture. (Part I is HERE.)
Read "A Locker-Room Rap with Coach Chomsky: The Politics of Sports, Part II," HERE.
Mother of Cthulhu, this thing is GINORMOUS. I've GOT to get the hang of blogging shorter. This essay started off reasonably enough, but ended up looking like Oakland Raiders owner Al Davis's idea of a doctoral dissertation—5,098 words, FFS. Now I'm petrified no one will read the misbegotten thing. (If you do, bring bottled oxygen.) Anyway, my apologies in advance. If you are foolhardy enough to wade into this thing, please feel free to pelt me with batteries and beer bottles from the comment thread. That's what it's for.
For the time-starved, here's the nut graf:
In their rippingly readable Better to Reign in Hell: Inside the Raiders Fan Empire, an instant classic of gonzo ethnography, the husband-and-wife team of cultural critics Jim Miller and Kelly Mayhew stand Chomsky's critique of the social role of sports on its head. Penetrating to the silver-and-black heart of Raider Nation, Miller and Mayhew reveal it, through Studs Terkel-style oral histories and first-person storytelling, as mostly (though not entirely) working-class, surprisingly multiracial and multi-ethnic, and more politically diverse than the stereotypical image of the right-wing lumpendude bellowing "USA! Number One!" during the Super Bowl's fighter-plane flyover would have us believe.