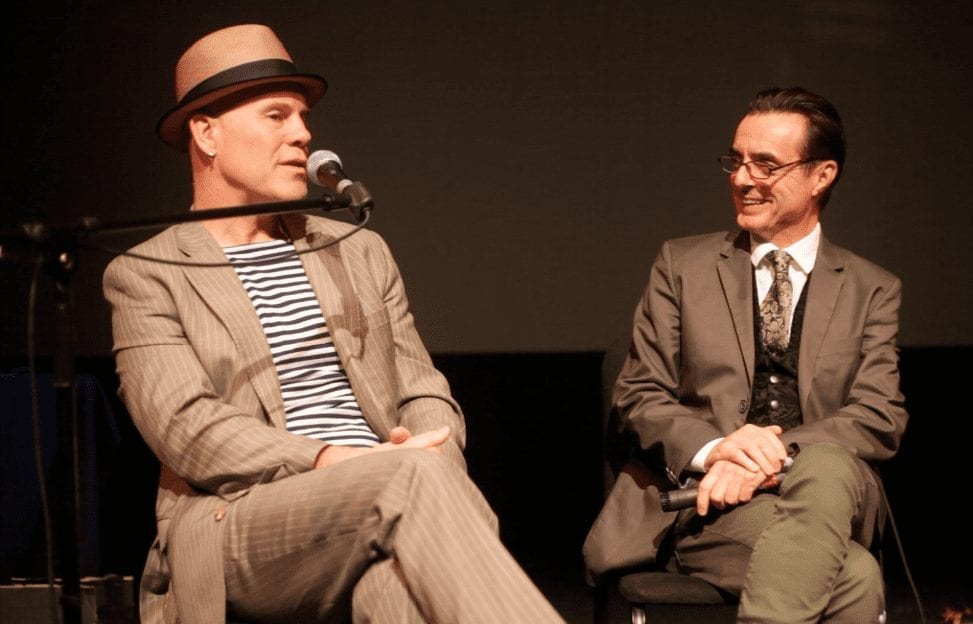 Lecture subjects include: – Edward Gorey – American Culture – The Digital Age – Media criticism/ media theory – Visual culture – Body studies – Science fiction – Aesthetic philosophy – Gender/ Masculinity/ Men's studies – California studies – Afrofuturism – Culture Jamming/ Guerrilla media.
To arrange a lecture, send me a message.
Exit Polls from Lecture Hosts:
"It is uncommon for introducers of our informal CabaretCinema series to prepare so assiduously for a presentation, but with Mark Dery we were treated to a wry, informative, and exquisitely turned treatise on the lasting relevance of A Clockwork Orange. He kept the full house rapt, which, at 9:30 p.m. on a Friday night is sometimes a challenge."

Tim McHenry, Producer, Rubin Museum of Art, New York
"Apart from being one of the most interesting and acute writers in contemporary American literature, Mark Dery is an outstanding lecturer. His profound knowledge of the many different features that make up the face of the world we live in turns his conferences and lectures into a whole adventure worth living. I had the honor of inviting him to a literary symposium that I organized in Mexico City, and the experience was truly satisfying."

Mauricio Montiel, literary advisor in charge of organizing and coordinating the annual literary symposiums for the Festival de México en el Centro Histórico, Mexico City
"Time and again I turn to the writing of Mark Dery for inspiration and illumination and he is even more engaging in person than he is on the page. When we brought him out to lecture here for San Diego State University, he rocked the house. The cleverest cultural critic to have emerged in the United States in the late 20th Century, Dery has a roving, voracious, ferocious eye that investigates and outs national and international cultural complexities with a relentless tenacity that entertains as it inspires."

Dr. William Nericcio, Director, The Master of Arts in Liberal Arts and Sciences Program at San Diego State University
"Mark Dery is a true public intellectual–the kind of writer and speaker whose work resonates at a full-spectrum bandwidth to raise the cultural consciousness and critical understanding of students and professors alike. A consummate professional, a Wildean wit, and a true pleasure to work with, Mark Dery is the erudite and engaging guest speaker you've been waiting for."

Mark Young, Ph.D, Warren College Writing Program, University of California, San Diego
Watch videos of Dery's lectures: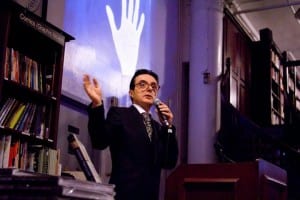 – "Nursery Crimes: Edward Gorey's Morbid Nonsense," Harry Ransom Center, University of Texas at Austin, February 21, 2019.
– "Waiting for the Zombie Apocalypse: American Dreams, American Dread in the Age of Uncertainty," at the University of California, San Diego (UCSD), June 4, 2012.
– "The Politics of Style," at the School of Visual Arts, New York, as part of the MFA Design Criticism Department's lecture series, December 12, 2011.
Selected Recent Lectures:
2019:
"Nursery Crimes: Edward Gorey's Morbid Nonsense," Harry Ransom Center, University of Texas at Austin, February 21, 2019.
2018:
"Afrofuturism Reloaded," San Diego Central Library, December 1, 2018.
"The Screams We Make In Other People's Dreams: Edward Gorey, the Gay Gothic, and the Camp Macabre," at the University of California, San Diego, November 28, 2018.
2017:
April 29: Panel, "GLAM!! A Celebration of Glitter Rock and Art Pop," NYU Tisch School of the Arts, NYC.
April 22: Panel, "25 Years of Afrofuturism & Black Speculative Thought," with Dr. Reynaldo Anderson, Sheree Renee Thomas, Tiffany Barber, at The Black Speculative Arts Movement Convention, Bronx Museum of the Arts, NYC.
2015:
February 19: "On the Pathological Sublime: Dark Matter and Aesthetic Rapture," Poyner Fellowship lecture at the Yale School of Art, Yale, New Haven.