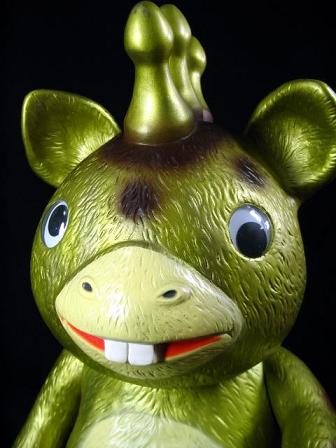 Can "pop"-ness be quantified? Is there a quality, inherent in the shiniest, rubberiest, squeakiest, squeeziest expressions of disposable culture, that can be distilled into pure essence of pop? If so, what is it? A product's giddy embrace of its instant obsolescence? An earnest attempt at mass appeal that stumbles unwittingly into kitsch or camp or brain-scalding weirdness? An unselfconscious delight in its wiles, counterweighted by a slyly self-mocking awareness of just how unconvincing its seductions are? All of the above? Where's Andy Warhol when we need him to Explain It All For Us with one of his brilliantly vapid aphorisms?
Kaiju toys, which I recently discovered while researching "Scary Cute," my November 2005 I.D. magazine article about Japanese designer toys, are the coagulated essence of Japanese pop culture. Manufactured by companies such as Bandai and Toho, these collectible vinyl figurines are based on characters from the Japanese monster movies whose heyday was the late '50s and '60s, when tyrant lizards with conspicuous zippers ruled the earth (or, at least, the onscreen dream life of a nation trying to exorcize the post-traumatic specters of Hiroshima and Nagasaki). As well, they draw on Japanese ghost stories and folktales.
Now, a feverish, mostly adult U.S. fandom is paying astronomical prices for these toys, bidding them into the stratosphere on eBay or buying them from retailers such as Toy Tokyo and Giant Robot.
I don't delve very deeply into the kaiju subset of vinyl-toy fetishism in my sprawling I.D. article, whose keyhole view of the vinyl toy subculture focuses on Western artists' inspired glosses of Japanese toys, many of which were, in turn, loving knockoffs of Western pop-culture icons such as G.I. Joe, Playmobil figurines, '70s cereal-box characters, and Big Daddy Roth's hot-rodding Rat Fink.
A Herculean effort, the article damn near killed me. I interviewed a cast of thousands, including Frank Kozik, Tim Biskup of Gama-Go fame, Nathan "World of Pain" Jurevicius, Pete Fowler (known for his Monsterism toys), and Japanese designers such as Devilrobots, Touma, Mori Chack, and Junko Mizuno.
Here's a teaser:
Japanese designer-toy artists continue to draw inspiration from the clash between Japan's Blade Runner present and its venerable traditions, producing work that marries traditional values such as the delicate balance of opposites (as in the kowaii/kawaii, or "creepy/cute," aesthetic) to a postmodern love of ironic (yet affectionate) quotation. Some, such as Touma, Mori Chack, and Junko Mizuno, take the cuddly-sinister aesthetic to new extremes, adding the frisson of punk-rock aggro. A Japop synthesis of kiddie culture, irradiated deformity, and simmering hostility, their work mocks the suffocating cuteness of much Japanese commercial culture. Touma's scowling, growling KnuckleBears cross Winnie-the-Pooh with the Terminator. Mori Chack's Gloomy Bear is warm and fuzzy yet red in tooth and claw, accidentally bear-hugging its child owners to death (or so goes the "character explanation" on the packaging). Junko Mizuno's Miznotic Fantasy dolls reincarnate in PVC the moist-eyed waifs in her ero-guru ("erotic-grotesque") manga–baby-faced women who gnaw on bloody bones or gambol naked with decomposing cadavers, exorcizing the petite, sweet-faced Mizuno's frustration at being treated like a doll.
My valentine to the rubbery seductions of kaiju figurines will have to wait for another day. In the meantime, here's a gallery of these weird little totems, whose overripe colors and glossy vinyl skins are so luscious–so visually tactile–that you want to caress them, maybe even consume them, with your gaze.
A feast for the eyes…