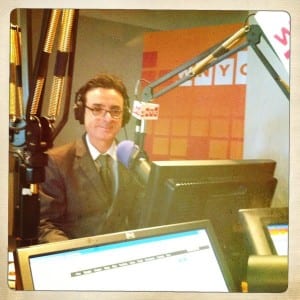 Live, on the Brian Lehrer Show (WNYC, NPR affiliate, NYC). If I look a little tipsy, it's because I'm drunk on the power of the elite liberal media, subliminally fondling the American unconscious with the long, sticky tendrils of my socialist thought.
My latest, the essay collection I Must Not Think Bad Thoughts: Drive-by Essays on American Dread, American Dreams, is turning out to be The Little Buzz Engine That Could.
Here's a collection, in no particular order, of links to recent reviews and interviews.
Archived audio of Brian Lehrer's fast-paced, high-spirited interview with me here. Brian was a wonderfully engaging interviewer; he's obviously a Shao-Lin Master at bringing out the best in his interviewees. (Don't forget to read the comment thread. Makes a beer-sodden crowd of Juggalos look like an MLA panel. Who knew the word "neologism"—or, for that matter, the admittedly more Zizek-friendly "emblematize"—would goad the trolls into such a frenzy of pugnacious populism? I really *do* live the sheltered life.)
Mark Dery's essay collection I Must Not Think Bad Thoughts is brilliant. I am too stupid with soul-delay to articulate how.

– William Gibson (@GreatDismal) April 20, 2012
(Hive Mind: If you know what "soul delay" is, enlighten me via Twitter @markdery.)
With the eviscerating Pyrotechnic Insanitarium: American Culture on the Brink, [Dery] carved out a new identity for himself as the psychopathologist of the American unconscious. Following all too slowly on its heels, I Must Not Think Bad Thoughts takes us beyond the brink into the maw of something distastefully uncanny, something so horribly real that it can't possibly exist. CGI cinema certainly has a lot to answer for. … Collecting [these essays] into a single volume concentrates the intensity of the trip we are about to take, rather like pumping up the juice on the electric chair, or getting medieval on the plunger of a lethal injection.
Scarily smart, acidulously funny, and a prose stylist of Hitchensian gifts, Tim Cavanaugh, of Reason magazine, likes my "hyperurbanized pomo japery." (Why I Love the Intertubes: 56 comments, two of which are actually on-topic.)
Previous reviews for Bad Thoughts HERE.