Pardon my gratuitously exploitative title, but I had to grab you by the eyeballs somehow.
Now that I've got your attention for what my Sitemeter informs will likely be 21 seconds at best (the Attention Economy is shriveling, here at Shovelware as elsewhere), let me tug on your sleeve about two new anthologies that feature my byline:

* Hunger and Thirst, a collection of essays, fiction, and poetry on the subject of gastronomy from the San Diego-based indie press City Works, and

* Pr0nnovation? Pornography and Technological Innovation, an anthology of lectures from the first Arse Elektronika conference (which I keynoted, in San Francisco, in September 2007), published by the legendary underground press Re/Search in conjunction with conference organizers Monochrom, an "art-tech-philosophy collective" based in Austria.
First up: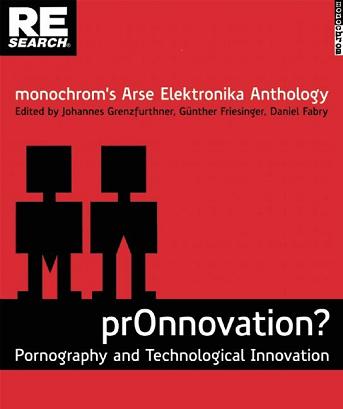 The publisher's blurb half-heartedly ballyhoos the book with a decidedly listless blurb: "Technology's development (Photography, Cinema, The Internet) is often pushed ahead and funded by pornography. This book explores that connection. […] The porno effect accompanies every new technological development. Immediately after producing his famous bible, Gutenberg used his press to print erotica. Photography was utilized just as quickly. And so the technological advances continue." Indeed they do. And as J. Danforth Quayle memorably observed, we don't want to go back to tomorrow, we want to go forward. (Cue "It's a Bright, Big Beautiful Tomorrow" from the GE "Carousel of Progress" ride at Disneyland.)
BUY IT HERE.
WHAT YOU GET: Annalee Newitz ("A Futurist's History of Sexual Technology"), Violet Blue ("Ceiling Cat Hates Your Porn—Sexual Privacy Online"), Jonathan Coopersmith on "The Democratization of Pornography" (DIY porn), Carol Queen on "Your Grandmother's Vibrator," Katherine Zakravsky's "Brief History of Cultural Genitals," and much, much more, my friends, including, not least, your friend. I've got an essay in this thing, titled "Cowgirls and Werebabes: When Porn Leaps the Species Barrier," about the "humanimal" porn of the do-it-yourself far-fringe fetish pornographer Nexus T. His illustrations, reproduced here in all their blurry, low-res, iPod nano-sized black-and-white glory, will leave big, unsightly blisters all over your mind, tender to the touch. There are more things in heaven and earth, Horatio, than are dreamt of in your Playboy Philosophy.

Next up: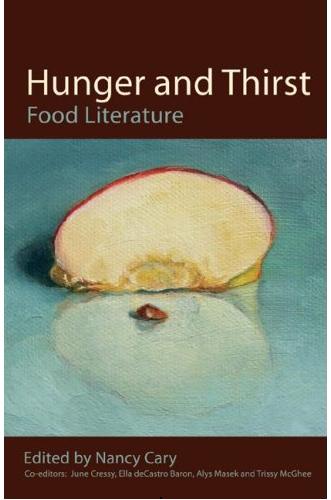 The blurb on City Works's site describes Hunger and Thirst, edited by Nancy Cary, as an approximately 375-page collection of "poetry, fiction, non-fiction, and art" in which "more than eighty contributors offer up unique views of food and drink, what we hunger for, what pains us or sustains us, what brings us joy as individuals, as family, as culture." I contributed an extended dance mix version of my Salon essay on Taco Bell, the Americanization (read: deracination) of Mexican food in Southern California, and my Proustian quest, in New York, for the hybrid border cuisine of my SoCal youth.
BUY IT HERE.
WHAT YOU GET: The abovementioned 80 contributors, plus my essay, which includes:
* Soul-wrenchingly profound meditations on the soul food of SoCal culture—the hybrid consciousness of the U.S.-Mexico borderlands, wrapped up in a tortilla.

* An answer to the question that has been gnawing a hole in the American mind, namely: How is the original Taco Bell sign—the proverbial lazy Mexican dozing against a cactus, shaded by a cartoonishly huge sombrero—to Mexicans as the golliwog lawn jockey was to American blacks?

* How to pronounce "Toast-AH-duh," in strict conformity with 1970's Taco Bell menus.

*A harrowing descent into the American racial gothic, with its shuddering recoil from the "abominations of Mexican cookery," most notably Mexicans' "indifference to the existence of dirt and grease" (not to mention their "appalling liberality in the matter of garlic" and their "recklessness in the use of chili colorado or chili verde").
All this, and more appalling liberality, in Hunger and Thirst and Pr0nnovation.